7850 Mentor Ave
Mentor, OH 44060
(440) 572-2855
mentoroh@youngchefsacademy.com

REGISTER FOR A CLASS
OUR SPECIAL OFFERS
SIGN UP FOR OUR NEWSLETTER
Young Chefs Academy® is pleased to be located inside the Great Lakes Mall in Mentor (just inside the mall entrance between Firestone & Sears). This summer, come drop your child off for one of our great classes or summer camps for as little as $10/hour and take advantage of all of the GREAT shopping, restaurants and services in the Great Lakes Mall!

Birthday Parties
We're the nation's only national cooking school dedicated to kids and we're proud to have been selected as one of Parents® magazines' top ten places for Birthday parties in 2010! Check our our great Party Menus and packages via the PARTY PACKAGES tab. You supply the chefs, we provide the rest!

Cooking Classes
We're pleased to offer Parent/Child (or grand-parent/child programs) for those looking for something fun to do (typically with 3-5 year olds, Junior Chefs dropoff classes for those 6+ year olds, and Senior Chefs programs for those 10-14 years old.

Click on the CLASSES/MEMBERSHIPS tab for our schedule, prices and upcoming dishes.

Summer Camps
Check out our Camps Tab for this summers' hottest camps with some of our returning popular themes (with new recipes and challenges) and also for new themes as well! Prices affordably priced at $99 for 3 days of camp.

Scout Troops
Our Scouting programs are lots of fun and educational. We offer fun programs such as make your own pizzas, seasonal dishes, most desserts, for as little as $10/child, and offer all badge programs (Brownies, Juniors, Cadets, and such) for $15/child for 1 1/2 hours of fun. Call for more information and to schedule.

Field Trips
This summer, be one of the coolest schools, preschools and/or daycare centers by having a field trip to Young Chefs Academy. Priced affordably with discounts for larger groups . Can't come to us, we can come to you! Visit our Field Trip page for more information!

Special Events:

Check back for seasonal events throughout the year!


Gift certificates make great gifts anytime throughout the year, and are available in any denomination!

CLASSES /
MEMBERSHIPS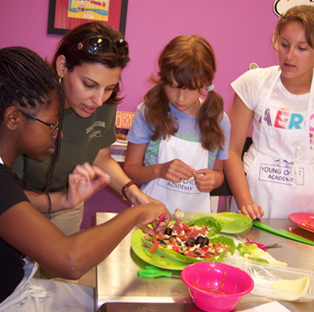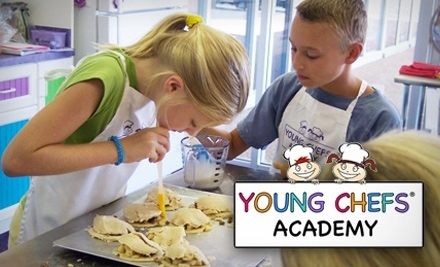 Young Chefs Academy is a unique cooking experience which offers cooking classes to children in a safe environment that encourages discovery and creativity. Each visit is a new experience with monthly themes and exciting new programs. Students sharpen their skills every week! At Young Chefs Academy we take the fear, mystery, and the unknown out of cooking. In addition, each class and event incorporates supplemental subject matter which ties into each theme. Our Class Instructors carry out our mission to provide and interactive learning experience that gives children the opportunity to develop a life-long love for a life-long skill!!

Parent Child Classes for those 3years +
We offer parent-child (or grandparent-child) fun for 3-5 year olds every Thursday evening from 6-7pm. Cost: $15 for a one-time/drop-in class; or $45 per month. Call or register online in advance.

Upcoming recipes to include:
6/18: Homemade Pizzas
6/25: Oatmeal Pies
7/2: Red, White, Blue Pinwheel Cookies
7/9: Mini-Apple Pies
7/16: Belgian Waffles
7/23: S'more Cupcakes
7/30: Homemade Pretzels


Junior Chef classes for 5 years + are dropoff programs and are offered on:

Mondays: 6:00 - 7:30pm
Fridays: 5:30-7:00pm, and
Saturdays from 9:30 - 11:00am

Once enrolled, you have the flexibility to attend whatever day is more convenient for you each week!

Cost: $20 for a one-time class; $65 per month (4 classes = 6 hours) and our Best Value of $185 for 3 months and you'll receive a FREE YCA embroidered chefs apron and a recipe binder to create your own YCA cookbook!


Upcoming Jr Chefs Classes:

June 15th-June 20th: Homemade Pizzas, Chocolate Chip Cookies

June 22nd-June 27th: Blueberry Coffee Cake, Oatmeal Pies

June 29th - July 4th: Red, White & Blue Pinwheel Cookies, Potato Chip Chicken (closed Friday & Saturday 7/3 & 7/4)

July 6th - July 11th: Homemade Corndogs & Mini-Apple Pies

July 13th - July 18th: Grilled Steak & Grilled Bread

July 20th - July 25th: Meatball Sliders & S'More Cupcakes

July 27 - August 1st: Walking Tacos & Homemade Pretzels


*Groupon/Living Social customers: Please give 3-5 days notice when making your reservations, as classes can fill up quickly. Please create an account online with your personal information, but call (440) 572-2855 to make a reservation as the system will not accept reservations without credit card payments. Thank you!


PARTY PACKAGES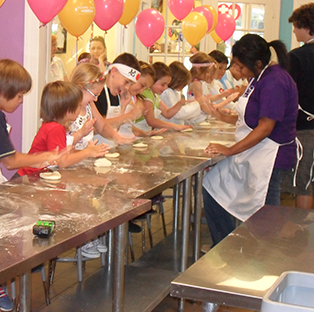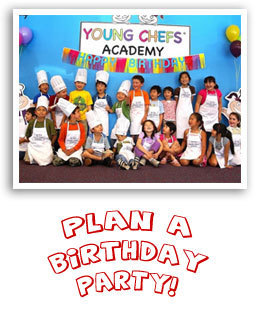 We are proud to have been selected as one of Parents magazines top 10 places for Birthday Parties in 2010!

You provide the chef(s), we provide the rest. All parties are priced at $250 for up to 15 children and provide personalized invitations, chefs' hats for each of the kids, plates, cups, silverware, they'll eat whatever they make, drinks, and goodie bags. (Deposits are non-refundable, but transferable to other services). You just provide the cake, and/or we can provide cupcakes for the kids to decorate and enjoy for $3/child additional.

Parties can be held anytime after Noon on Saturdays, anytime on Sundays, afterschool, and some weekday evenings as available. They are typically 1 1/2 hours, but can be customized. We offer discounts for parties with more than 15 children (each additional child is just $10), and we can offer discount pricing for smaller parties as well (10% off for those parties with 9 children or less).

We can do just about anything, but some of our more popular party options are listed below:

Make Your Own Pizza Party - By far our most popular party! The kids will mix up a batch of pizza dough, knead it, and make/shape personal pizzas in whatever shapes their little hearts desire! (hearts, footballs, princess crowns, stars, etc etc)

That's Amore (ages 7 & up) - each guest will create homemade pasta dough and pasta noodles using a pasta bike/crank, and make homemade marinara sauce, and/or garlic and herb butter.

Making/Decorating Cupcakes: Here your young chef will make their own favorite flavor of cupcakes and decorate them to their liking!

Fiesta Fabulosa! (ages 7 and up) - guests will create one of the following Fiesta recipes: cheesy chicken enchiladas, Tacos, Quesadillas, or more options available!

Cake Decorating Extravaganza! (ages 7-14) - Each guest will receive their own 5 inch round cake and make homemade frosting, and then learn/practice using various decorating techniques using pastry bags. Come have fun trying their hand at being their own cake bosses!

Pajama Pancake Parties - here the kids can come in their pj's and make breakfast recipes such as pancakes, waffles, muffins, quiches or other dishes. So cute...

The Afternoon Tea (ages 6 and up) - Guests will create chocolate chip scones and/or tea sandwiches while learning the etiquette of afternoon tea.

Gourmet Mac n Cheese - definitely not the boxed version. We'll use gourmet Smoked Gouda cheese, the kids will make the rue sauce, add some diced ham if interested, and maybe even some corn flakes to make this favorite recipe!

Chinese Good Fortune - homemade Fortune cookies (the kids supply the fortunes!) and your choice of main dish such as Stirfry, Potstickers or Lettuce Wraps



CAMPS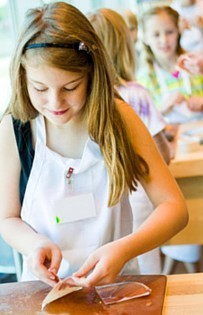 Don't miss some of the hottest camps this summer. Camp Can-I-Cook® is underway with new recipes to master and challenge! Some of our popular themes are back, or check out some of our NEW 2015 themes such as Chopped, and Southern Foods!

Our mini-camps are flexible to allow you to pick and choose convenient dates and appealing themes.

Each 3 day camp is Tuesday, Wednesday & Thursday with either Morning (9-12pm) or Afternoon (1-4pm) options

Camps range are just $99 each (for 9 hours of camp), and with our Pick 3 option you'll save $30 when enrolling in 3 camps, or with our Pick 6 option you'll save $75 when enrolling in 6 camps!!

Upcoming camp themes include:

Cupcake Palooza: June 23-25

Chopped: June 30 - July 2

Famous Chefs: July 7-9

Travel thru Italy: July 14-16

Fun At the Fair: July 21-23

Southern Foods: July 28-30



We look forward to seeing your young chef at camp this year....so enroll online today, or call us via phone at (440) 572-2855!


Should your summer plans change, rest assured that while camp deposits are non-refundable, they are transferable to other camp dates, times, or services (ie Classes, Birthday Parties, etc) for 1 year from date of purchase.



Camps are drop-off, so are recommended for 5–14 years olds. Please visit online for other activities for those <5yrs


SPECIAL EVENTS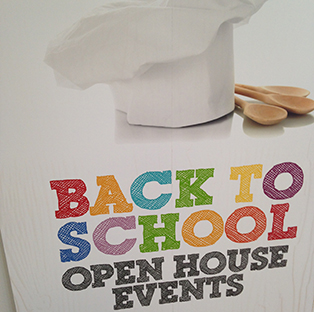 Save $30 when you enroll in 3 of our great summer camps, or $75 when you enroll in 6 camps! But, hurry as space is limited and enrollment began in February ...

----

LIKE US on Facebook and be amongst the first to receive Special Offers, discounts, and advance notice for special events and workshops!

Gift certificates make great gifts anytime throughout the year, and are available in any denomination!

FIELD TRIPS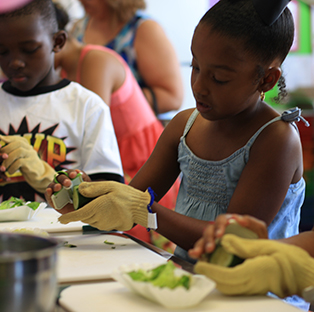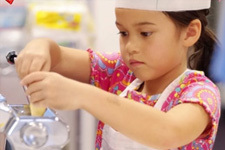 Field Trips
This summer, be one of the coolest schools, preschools and/or daycare centers by having a field trip to Young Chefs Academy. Priced affordably with discounts for larger groups

Can't come to us? We are proud to coordinate various offsite programs for schools, afterschool programs, preschools/daycares, community organizations and others. Call 440 572-2855 for more information and to discuss.

Special Events:

Check back for seasonal events throughout the year!
MASTER CHEF
PROGRAM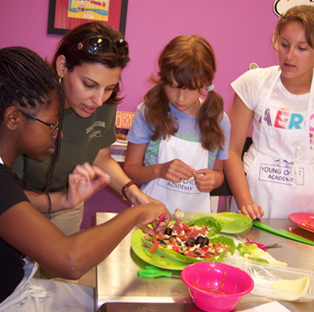 We're always cooking up fun at Young Chefs Academy!
This is the place to come for any upcoming events or special offers only at your local YCA!
Established in April 2003, Young Chefs Academy offers cooking classes to children in a safe environment that encourages discovery and creativity. While teaching culinary skills is the main ingredient at YCA, each class adds a heap of kitchen safety, a scoop of etiquette, a handful of table setting, a pinch of menu planning, and laughter to taste.